Volunteering
"I slept and dreamt that life was joy. I awoke and saw that life was service. I acted and behold, service was joy." ~ Rabindranath Tagore
There's a place for everyone at camp!
Each year countless individuals and groups give their time and talents to The Fowler Center to help make a difference in the lives of those we serve. Whether you are a skilled builder, have a knack for creative programming or would like to spend time helping a camper achieve their maximum potential, we welcome you. Please read below to find out more about what camp needs and how you can get started.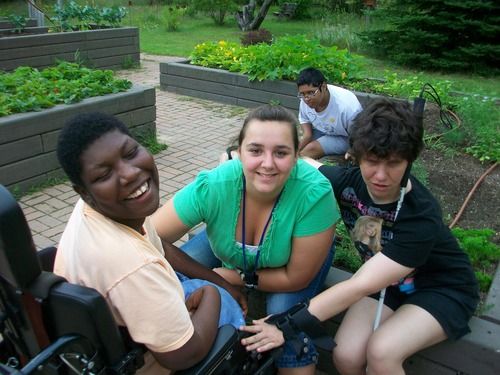 Who can volunteer?
The Fowler Center encourages individuals or groups to be a part of camp. Past groups have included Alternative Break Groups from around the state of Michigan, Virginia and Illinois, church groups, school groups, service clubs, Foster Grandparents and local therapy dogs.
How old do I have to be?
If you are an individual volunteer you must be at least 16 years of age or older. If you are a group and have participants younger than 16 years of age you must have chaperones with your group.
What areas can I help in?
Camp Programming-come help run an activity, spend time with campers, or bring your group to perform for an afternoon.
Grounds and Building Maintenance-paint, rake, build, mow…we have over 200 acres to care for!
Office- answer phones, assist with mailings, input donations, file camp paperwork…
Medication check-in – you must have experience with medications and attend our ½ hour training
Equestrian/Small Animals- help campers of all abilities learn to ride and care for horses & small animals
Special Events/Fundraisers- help out at our Annual Ice Fishing Contest, Clean Up Days, and more!
What is the commitment?
It depends on your interests and availability. Projects/programs/events are as short as half a day or as long as a week.
What about food and lodging?
Food and lodging varies depending on the program. Call 989-673-2050 for details.
What if I don't have any skills?
Nonsense! Everyone has something to give back. Something as simple as raking the grounds, digging out a firepit, or spending some time talking to a camper makes all the difference to us. Individuals and Groups Welcome!
How do I sign up?
Email Nicole Lingnau to get started!